In yesterday's Tuesday Teaser post, I mentioned that I am reading E. M. Forster's Howards End on my iPad with the Free Books App.  This app truly is an electronic mecca for readers and as such, I thought it was deserving of its own post.
Free Books is just that: an app that provides you with a list of free downloadable books.  What makes the app amazing is that this is no puny, short list of titles.  There are 23,469 titles available through this one app… all absolutely free!  Here's the summary from Spreadsong, Inc., the app's developer:
"We take 23,469 classic books, package them up into one gorgeous interface, and make them available to download and read with our fully featured ereader.

Free Books unlocks a world of public domain content, allowing you to acquire the great books of human history. Letters of leaders, the collected works of geniuses, the finest Victorian novels, the plays of Shakespeare, the philosophy of Seneca and Marcus Aurelius, the autobiographies of Benjamin Franklin and Andrew Carnegie. It's all here, along with tens of thousands of other books. And all, might we belabor the point, absolutely free.

To get these books it really is as simple as a tap- in seconds you'll be reading with our lightning fast, built-in ereader. Done reading? No worries- we'll save your place with automatic bookmarking, and return to your spot when you pull up the app again.

We could go on- personalized recommendations, beautiful high resolution covers, handpicked collections, author pages, Email to Computer, Night Mode reading- but that would just get away from the point.

23,469 of the greatest books in human history, accessible with the tap of your finger. Free.

If you have any questions or suggestions don't hesitate to drop us a line at hello@freebooksapp.com- that's what we're here for!"
What  Spreadsong has done here is amassed all of the books published before 1929 (which are now public domain, as mentioned above) into one huge database that is searchable by title, author or most frequently downloaded.  Once you choose a title, it appears in your library, which looks a lot like the bookshelf in the iBookstore.  You can remove the book from your device once you've finished reading it.  Audiobooks are also available, though I personally haven't played with that feature at all.  This app is a dream come true for fans of Victorian-era literature such as I, because my favorites are by definition pre-1929 titles and therefore all available to me with this app.  Folks who are reading from the 1001 Books list will find enough of those titles on here to last them for much of their reading lives.
OK.  Time for me to be a little snarky again.  I am The Lit Witch, after all.  I've been amused reading through the user ratings for this app this morning.  Those who appreciate Free Books for what it is give it glowing reviews.  The amusing part is the negative reviews.  You know what the complaint is from people who rate this app poorly?  The fact that it has ads on it.  Bwa ha ha ha ha!  To those reviewers, I say this: Spreadsong is bringing you TENS OF THOUSANDS of free books in one big, well designed, user-friendly app.  You're seriously going to complain about ads on the home page?  Give me a break.  Once you open your books and start reading, this app is an ad-free experience.  And to those of you who are truly that bothered by said ads, here's a tip:  shell out the $3.99 for the ad-free version.  What's that, I say?  PAY for the books?  Why, yes.  At $3.99, that works out to… GASP… roughly 1/100 of a penny per book.  I think you can swing it.
Below is a screenshot from the Free Books app for iPad.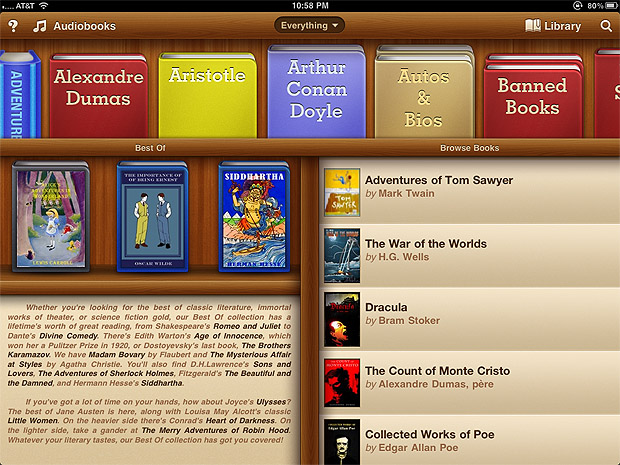 Related articles from Around the Web (see bottom of page for MY RELATED POSTS):